Our folders support communicative initiatives, independence and efficiency.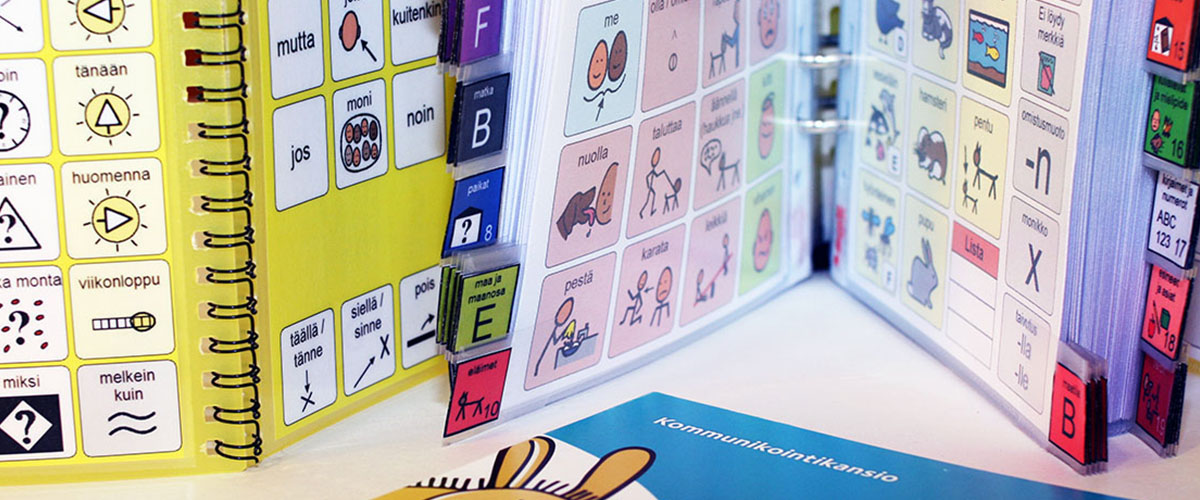 The AACi Communication Folder is an aid that is used for creating sign-based messages. Our folders allow users to replace or supplement their speech and provide them with the support they need for their speech-related communications. Our range has been extensively tailored to meet the different needs and skill levels of our customers. Some of our AACi products are available from the Valteri Shop.
The Communication Folders are personalised with a process that includes choosing the folder, building the folder, orienting the user's closest individuals on the use of the folder, personalising the folder, and providing guidance on its use. For more information on folder and service pricing, please contact us.
More compact folder types (Pikku-AACi and Midi-AACi)
for people who have some vision-related difficulties or who cannot point with enough accuracy and require larger signs.
for people who have difficulties with processing a wider range of characters at a time.
daycare or school vocabulary.
More extensive folder types (Iso-AACi and Super-AACi)
for people who need a wider vocabulary.
thanks to its wider range of signs, it is easier to use and model.
Super-AACi users must be able to parse a wider range of signs at a time.
daycare, school or adult vocabulary.
Smaller folder versions (Pikkuinen Midi-AACi, Pikkuinen Iso-AACi and Pikkuinen Super-AACi)
reflect the contents of the regular folders
are smaller in size
are suitable for e.g. people who move independently, as the folder is easier to transport.
You can test the spreads and separate pictures of the different folder types with a potential user by printing the files from the links below.
AACi Activity Board Folder
The Oma-AACi is an activity board folder that has been designed for the needs of individual users. The topics and vocabulary of a folder's activity boards are selected in collaboration with the user, their close individuals and an expert from Ruskis. In this type of folder, the activity boards are linked only by categories, so the option for guiding the user by moving from page to page (via edge marks) is not possible with this model as it is with the other folders.